"There are many of you out there who, like me, have a million different questions after seeing Ridley Scott's Prometheus.
I am referring to the mysterious monologue that android David speaks to the alien 'Engineer' in the final scenes of the film, which left many in the dark. How exactly do you begin to translate alien-speak? The clue lies in an earlier scene where David learns about linguistics, while the rest of the crew are in stasis.
In the scene David is learning the building blocks of language and we see him taking a lesson in Proto-Indo-European (PIE) Linguistics, where a holographic professor, takes him through the ABC's and recites Schleicher's Fable. An artificial text composed in the reconstructed PIE, in 1868, to demonstrate the language's use.

The 'Professor' in the clip is in fact the real-life linguistics consultant used for the film and taught Michael Fassbender (David) the dialogue. I managed to track down the consultant, a Dr. Anil Biltoo of the SOAS Language Centre in London, to see if he could shed some light on the mysterious final scene. He was most helpful and provided the following: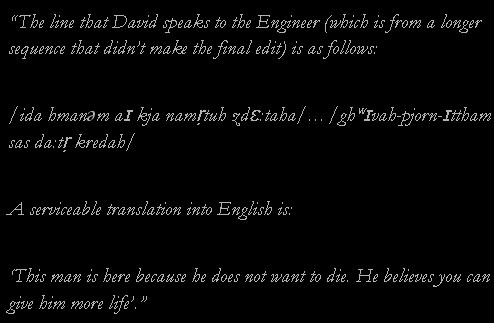 So basically David just asked what his master, Peter Weyland, requested. As the good doctor pointed out, there is a longer sequence which Ridley Scott filmed, but ultimately cut.
"We're all going to have to wait for the Director's cut to see if the conversation between the Engineer and David Ц and there was indeed originally a conversation, not merely an utterance from David Ц yields any fruit.- Dr. Anil Biltoo"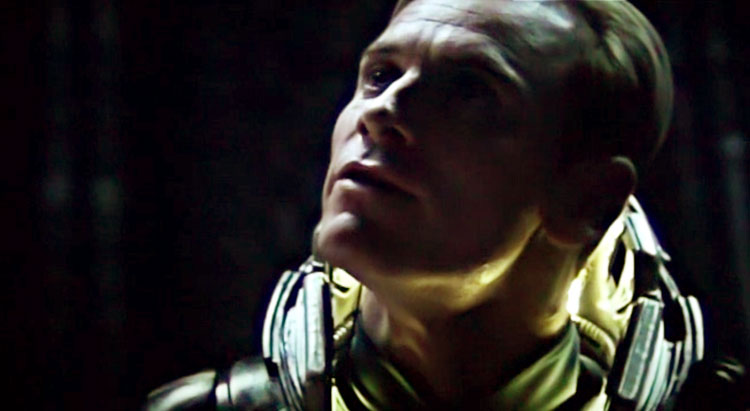 So were going to have to wait for the Directors cut to hear what the 'Engineer's reply was to David's request. Of course Dr. Biltoo is keeping quiet about the details regarding the cut scenes Ц there are plenty contractual reasons he cannot spill the beans. But once we have the DVD release and isolate that audio, it wont be long before some hot shot linguist translates it, and perhaps we'll know the answer to Shaw's question Ц "Why did they change their minds about us?"
Dr. Biltoo also revealed that Fassbender spent 17 hours reciting Schleicher's Fable, committing it to memory, only to have Ridley Scott use the first line in the film.