Do you know that feeling when someone puts a gift under the Christmas tree a week before Christmas? And it gnaws at your curiosity and you have no real idea what it could be? And then Christmas arrives and you finally open the gift and its exactly what you wanted but had no idea that you would? That would be a metaphor for the feelings during this movie.
It is the year 2089 and a couple of archaeologists excavate a cave in Scotland. They find a cave painting of a large humanoid pointing at what looks like five stars. The same mural had been found in the ancient murals of the Egyptians, Sumerians, Mayans, and Babylonians as well. These civilizations had little to no contact with each other. What's more, the five stars can actually be found in the nighttime sky. One of these stars is very similar to Earth's sun and orbiting it is a large gas planet with a moon very similar to Earth. Is it a message? A warning? An invitation for man to meet its makers? Five years later, the Weyland Corporation sponsors a spaceship named Prometheus and its crew of engineers and scientists to make an investigatory trip to that far off galaxy. They find almost exactly what they are looking for: an ancient pyramid with the long forgotten carvings of a humanoid species of alien. But they also find a not very well intentioned something else living inside. Then people start dying.
This movie starts out like most of Ridley Scotts films, Slow. For about the first 30-45 minutes no real climaxes happen, but during that time the films does not disappoint because of all the great visuals and cinematography. When the film finally picks up speed you stay on a roller coaster until the film ends, sound familiar?
The look and the feel of the movie should be instantly recognizable for those familiar with the "Alien" franchise. The font for the title is the same, the style of futurisitic technology and set design is the same, and the director, Ridley Scott, was actually the director of the first "Alien" movie (but none of the others. This was way back in 1979). The plot (humans investigate, find hostile aliens, people start dying, the corporate agents act amorally, and more people die) is fundamentally the same as the first several movies, but differs in all the correct ways. There are new thrills, new themes, and new developments in what happens to who and when. I'm being vague on purpose. This is one of those movies where the less I say about the plot, the better experience the reader will have when they see it. So let me just say that the movie is similar enough to the original movies that they make sense being in this franchise but different enough that you will still actually be shocked when you should be. Or in other words, you can enjoy this movie without having seen any of the others and having seen the other movies won't diminish the experience of this one. This is a quality (the ability to expand on the themes and look of previous movies without violating basic copyright laws) that marks all great sequels and prequels and what makes "Prometheus" a worthy addition to the "Alien" franchise.
No actors from previous installments of the franchise are present in "Prometheus," but that does not stop this movie from having one of the best ensemble casts in any movie this year. None of these actors are A-List, but to the cinephile in the audience, it is a hugely heavyweight collection of intelligent badassery. First off, playing the ship's captain is Idris Elba. This guy must be a good 6'4" composed entirely of muscle yet still would not look the least out of place in glasses reading a book on quantum mechanics. Not an easy thing to do. Next is the new golden-boy of serious cinema, Michael Fassbender. He has a face and build that makes him perfect for playing a super intelligent and amoral android. There's a great scene when he watches his favorite movie, "Lawrence of Arabia," and the resemblance is uncanny. He has the same intense gaze of a young Peter O'Toole.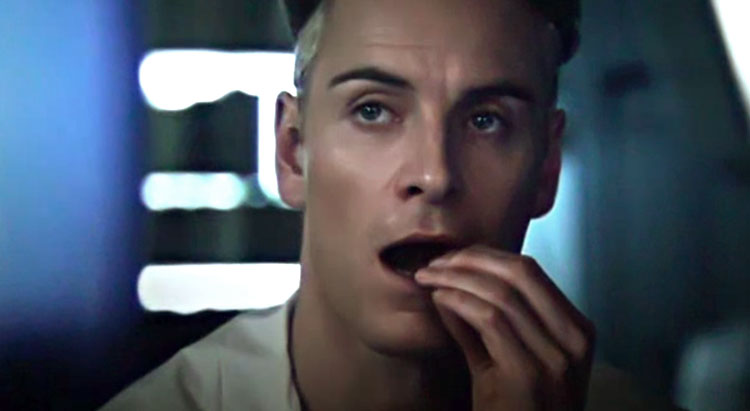 Finally there is Noomi Rapace playing the archeaologist. She is noticeably softer than Lizbeth Salandar but the events she goes through are just as traumatic if not more so. I always hesitate to say an actor/actress is brave because you know in the end, it is all just pretending. But for a select few I will pull out that adjective. Perhaps the best compliment I can give this movie however has to do with the fact that Sigourney Weaver is not missed. That's huge because Weaver is arguably the best female action heroine to ever grace the movie screen. There is some serious intelligent badass female empowerment going on here. Ridley Scott never seems to disappoint in that area.
One more thing people want to experience about "Prometheus" is its breathtaking visuals, which never disappoint. Ridley Scott and the crew provide the perfect balance of practical effects and CGI. The sets are massive and detailed, the props are creative and the grim color pallet provides a unique aesthetic.
"Prometheus" will induce the questions to cause reflection – reflection on who we are and what we need to do. Prometheus is a great science fiction film and a fun ride. It is one that you cannot miss.